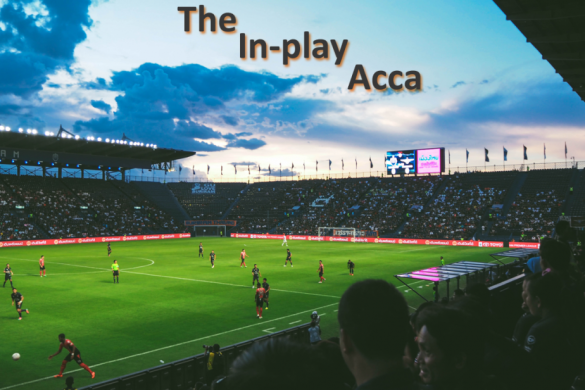 This form of betting is probably the one that some of us tend to do more than anything else, and for me personally it's brought a decent success rate.
So, what is the In-Play Acca anyway? It's two or more game bets combined while the match is in progress (can be on same game or entirely different ones).
I often do In-Play doubles or trebles to try and get odds of at least evens (2.0 or 1/1), but when games fall right, I will try and combine more for a much bigger return. Although this may be appealing due to the big potential pay-outs, you must bear in mind that every additional game you add, means the bet has a bigger chance of losing. There is a fine line between the two.
What are the advantages and disadvantages of betting this way?
Advantages
• Bet lines can be selected according to how the games are panning out
• In-play odds will be much better for the same bet line, even a matter of minutes into a game.
• Some bookies don't have certain lines available pre-match, and they only appear as the game kicks off.
Disadvantages
• Games will often have different kick off times so its about cleverly grouping the ones you like, and this takes more thought.
• Odds will keep moving in-play and you will often find lines disappear whilst building bets as games suspend out. This can be hugely frustrating.
When building an In-Play Acca is vitally important that you know what you are hoping will happen during a game, before you include it. One of the worst things you can do is see at game at 60mins and still at 0-0 and pick there to be a goal in the game without knowing anything about form, the teams or even the league.
There is a lot of this type of bet happening, and it's a lazy and unsustainable way of betting. You should be checking if the Pre-Match stats back up the hunch that there should be a goal, has there also been lots of action with shots and corners? It all needs to be looked at.
Using the tools that we've developed at Play The Percentage such as the Betting Engine, Easy Acca Builder and Head to Head sheets will let you check stats in seconds and allow you add bet lines in total confidence.
If you find you're using Bet365 to do your in-play betting (best app for it in our opinion), then you will have a whole multitude of options to choose from including the following that I regularly use:
• Extra Game Goals
• Asian Goal Line (First Half or Full Time)
• Over Corner Lines (eg. Over 7 Corners)
• Asian Corner Lines (First Half or Full Time)
• Cards in Game (not always available)
These can be combined however you like, and I always make sure I pick things I feel are most likely to happen.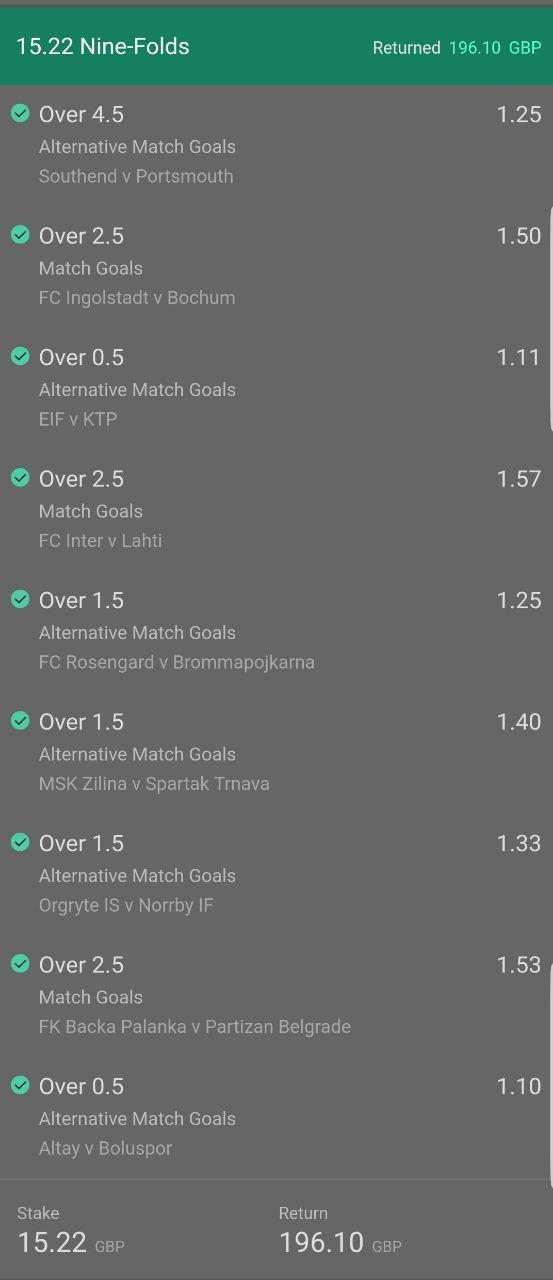 In Conclusion
This is a really fun way to bet, and if done properly can return regular wins, including huge potential returns using Asian lines.
The only way to learn this type of betting and get good at it is to practise, practise, practise. There is no substitute for it. Experiment create different types of bets yourself and see what works and what doesn't. Just remember the following key points:
• Stake small until you're confident in what you are doing (and then keep it sensible – 1% max of bankroll ideally)
• Have prior knowledge of games and research before you include them in any bets
• Use tools like Betting Engine to speed the research process up and make your life easier
• Combining more games gives great odds but adds much more risk.
• Asian lines offer great odds with a degree of protection (if you select whole number Asian lines)
• Have fun!
---
Related Posts