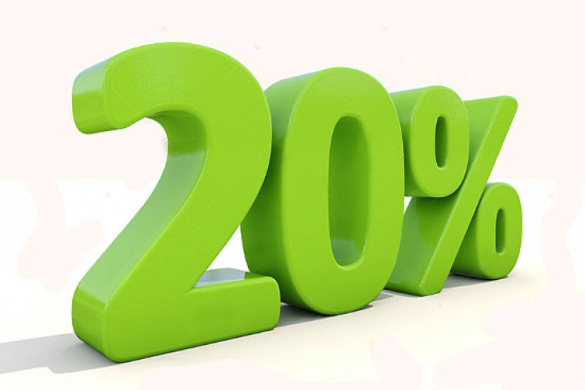 What's it all About?
You may have heard talk of this system recently on the Members Telegram Community, sometime in the distant past. This may have even been the first time you've heard it mentioned. Regardless, I will explain the system and how to go about incorporating it into your betting.
Where to Start
The first thing to understand, is that this is a separate system to your main Betting Bank Roll (However some of you may choose to make this the main focus of your bank building and a way of building a bankroll).
I would suggest no more than £100 and depending on the state of your funds/betting bank, the figure could be a lot less.
It will also be a lot easier if the bet site you are using to adopt the system on, is one where you can focus on this system alone. i.e. You use Bet365 for most of your bets but choose to use SkyBet for the 20% System. This makes tracking funds and your progress much easier. I'm currently playing with the system across 3 bookies myself: Skybet for corners, BetVictor for combined #PriceItUp Bet-Builders and Betfair for Over 1.5 Goal Accas.
What are the rules to this System?
1. The most important rule is that you always stake 20% of the pot of money, regardless of Win or Loss in previous bet. On a £100 starting Pot, Bet 1 would be £20.
2. The odds want to hit around the 4.0 mark (or 3/1), although it's not an issue to play more cautious at drop to 3.0 if you can't find enough you're confident on. Or, you could increase it a bit if there are games that combine to give you 5.0 or more. It's up to you but 4.0 seems to be the sweet spot.
3. Don't panic and deviate from Rule 1 and 2 even if you have a few losses in a row. This system recovers money quickly once you start winning.
Originally this system was devised as a kind of rolling bank builder with the idea of landing £10k from a £100 start pot by hitting 10 winning bets in a row, but it soon became obvious that the system has potential to your grow money over a prolonged period. I would suggest trialling it for a month ideally.
So what are the Potential Results?
We will base results on using odds of 4.0 (3/1) so results could vary depending on the actual odds used.
Over a period of a week (7 bets), here are the week end increases based on a various amount of wins
1 Win in 7 Bets – Money will be reduced to 42% of Original starting Pot
2 Wins in 7 Bets – Reduced to 84%
3 Wins in 7 Bets – Money will be increased to 168% of Original starting Pot
4 Wins in 7 Bets – Increased to 336%
5 Wins in 7 Bets – Increased to 671%
6 Wins in 7 Bets – Increased to 1342%
7 Wins in 7 Bets – An insane increase of 2684% of Original starting Pot
As you can see, you don't need a huge strike rate to make good profit. Win half your bets and profits are big. Hit a higher strike rate than that and they become obscene.
For an example of Potential Winnings over a longer 30-Day Period, plus an Excel Spread Sheet you can fill in yourself to track it, see the link below:

You've had the theory, so here are some of our current favourite systems:
SkyBet Corners
This is probably the go to system now in conjunction with the powerful tools we created for the website, such as Betting Engine and Pro Bet Builder.
Some of the best markets to use are Sky's unique bet lines:
• 3+ Corners Each Half
• 4+ First Half Corners
• 4+ Second Half Corners
• 3+ Corners Each Team
• Individual Team Corners starting at 3+
The method I suggest using if you are a Play The Percentage Member, is to go into your user preferences and set the form default to 'Season' (so it shows all the games stats when you open up a Head To Head link). Next step is to open the Pro Bet Builder and select the following 4 filters; 3+ First Half Corners, 4+ First Half Corners, 3+ Second Half Corners and 4+ Second Half Corners. Now set Game Form to 5 and populate the results.
You will be given a list of games that have hit 100% stats in the 4 filters you have selected over their last 5 games.
If a game has a tick for both 3+ First Half and 3+ Second Half corners it's obviously a very strong candidate for "3+ Corners Each Half". You should then click the Head To Head link to see if the stats are strong for whole season and not just a recent trend (Don't worry if it's not 100%, but if you can get a minimum of 80-90% then it's still a solid pick).
You can mix up whatever selections look strongest, corners in a single half, both halves, just team corners, or stick to only one type. The choice is yours entirely.
This system tends to have a very consistent win rate and is defiantly one to consider even if you've not been that big into corner betting. The only disadvantage being that you can only use SkyBet for this.
Over 1.5 / 2.5 Goals
This is another very simple system, especially if you have access to our bet tools, in particular the Betting Engine.
Select enough strong picks with over 1.5 or 2.5 Goals to get the odds you want. You could potentially even include Both Teams To Score if you feel confident enough.
The main advantage of using the over goals system is that you can play this on nearly any online bookie, so it doesn't matter where you are in the world or which ones you have available to you.
Over Corners
Similar to the Over Goals method but using corners instead.
For example, you could create a small over 8 Corners Acca with games that should hit those numbers easily.
Again, this type of bet will be available on a bigger selection of bookies too.
BetVictor #PriceItUp
The #PriceItUp system is another one that can only really be done with a single Bookmaker, in this case BetVictor.
Most of the main bookies have various forms of Bet Builder systems on their sites, but BetVictor are the only one that allow you to combine them with multiple games (Sky Allow you to combine two Request-A-Bets, but other like Bet365 only allow one game)
This means that you can have relatively safe Bet Builders on multiple games and still get the odds you want overall. I'll often play as safe as only including a single goal, 2 Corners Each Half and 2 Corners Each Team.
This is where our powerful tool, The Pro Bet Builder comers into its own. With over 40 filters to select, right down to even a certain team to get a corner in a certain half, you can tailor the bet builders to the stats that have hit in 100% of games.
The options are endless and this makes it a very effective system.
Other Benefits?
I also like the "20% System" for another reason many of you may not have considered. It will help teach you some degree of patience. As the idea is to just place one bet at a time and wait for it to either win or lose before placing the next, it should stop you placing extra bets all over the place which will likely eat into potential profit.
If you like the sound of this format, give it a go (preferably for a good period) and let us know how you get on with it.
---
Related Posts