In-Play Alerts and How To Use Them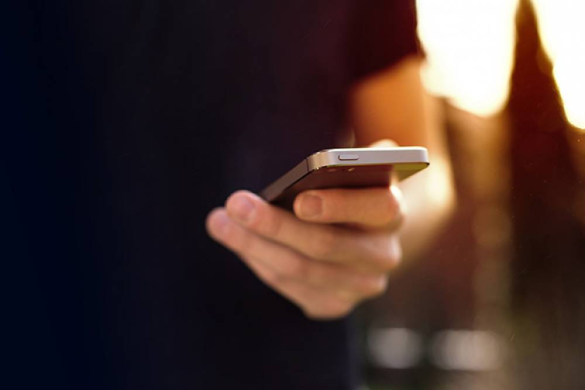 First of all, THE MOST important difference between our Alerts compared to many others out there, is that its linked to our incredibly powerful tool, the #BettingEngine.
For those that aren't aware of what it does, a simple explanation is that it pre-selects statistically strong bet lines for games (currently 48 different lines). The In-Play Alerts are linked to seven of these:
First Half Goal
Second Half Goal
Over 0.5 Game Goals
Over 1.5 Game Goals
Over 2.5 Game Goals
First Half Corners
Game Corners
What does this mean for you?
Other In-Play services may possibly send you out an Alert 30mins into a game, where the score is 0-0, regardless of the pre-match stats or the teams playing. The Play The Percentage In-Play Alert System will ONLY send out a FH Goal Alert if the Pre-Match stats for a First Half Goal have triggered the #BettingEngine. This means you're not constantly bombarded with statistically weak alerts.
Understanding the Alerts
Each Alert gives you specific game data from the Live In-Play action.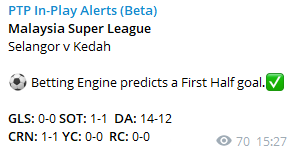 You will be told the League, the teams plating and which of the specific alerts has been triggered (Goals or Corners)
Underneath this, you get the additional in-play stats:
GLS = Goals (Home-Away)
SOT = Shots On Target
DA = Dangerous Attacks
CRN = Corners
YC = Yellow Cards
RC = Red Cards
These additional bits of information should help you decide whether to follow an alert or not. Plenty of shots on target and dangerous attacks are always a bonus when looking for goals and corners.
Another thing we would always advise if you are looking to maintain a profit is aim to get odds of at least evens (2.0) and higher if you can. This allows a profit to be made at a much lower strike rate. At 2.0 odds, one win in two means you're breaking even.
We see many tipsters pushing out in-play tips at say 1.4 odds for another goal. Did you know that a strike rate of 70% (winning 7/10 Bets) at odds of 1.4 means you're losing money even though the win rate seems decent? Getting the right odds and being patient to wait if necessary, is key.
Below is a handy reference table showing you the strike (win) rate percentage required to break even at various odds. Obviously the lower the odds, the higher the win percentage you need.

The Alerts Themselves and Betting Tactics
First Half Goal (FH Goal)
As simple as it sounds, the game has been pre-selected for a FH Goal due to great first half goal stats for both teams (over the last 5 games). You will usually have odds of around the evens mark straight away by time you get alert, but where you don't, we'd suggest waiting a little while. The braver you are the bigger the rewards as the odds will soar. However, it's probably good practise to lower the stakes as the odds get bigger and time starts to run out.
Half Time Alert for Over 1.5 Goals
This game is down as a strong candidate for having 2 or more goals in it despite being nil nil at the half way point (pre-match stats for both teams support this).
There are several ways you can tackle the betting on this:
You can simply place a bet on the game for Over 1.5 Goals. You might be lucky at half time to get odds of evens straight away, or if not, you could wait and place during the 2nd half to get the odds you're after. (Using an exchange, you can set the odds you want at any point, and the bet will become live only when it's been accepted).
You can place a bet of Over 1.0 Asian Goal Line for added safety. The Odds will be lower than taking over 1.5 goals, but as long as there is one goal you can't lose your stake. Again, you could wait for better odds into the 2nd half.
Place a bet for only a single goal (Over 0.5 Goals). The odds may well be terrible at Half Time so you will have to wait till much later In the game to make it worthwhile. If there is an early 2nd half goal you could consider taking the over 1.5 line.
Half Time Alert for Over 2.5 Goals
This is almost the same as the Alert for Over 1.5, except that there will have been a first half goal and the stats suggest there will be a couple more before the end of the game.
Another Goal in the Game
Again, as simple as it sounds. Regardless of the score, the stats suggest that there should be another goal going by form in the last 5 games for both teams. Stats for both number of goals and occurrence of 2nd half goals are factored in.
There are several ways to approach this bet and it will be personal choice for you as to what you prefer:
Simply bet on an additional goal before the end of the game at odds you're happy with.
Select a whole number Asian Goal Line hoping that there may be 2 more goals but knowing 1 more means a refund (Odds can get large on this). eg. Game is currently 1-1 and you go for Over 3 Asian Goal Line. If the Game ends 2-1 or 1-2 you get your stake back.
To get better odds you could go for a goal before a specific time in the game. The Alert may come through when game is on 70mins but you go for a goal before 80mins. Odds will be large but it's a risky tactic. A goal even seconds after the 80th minute will be a loss.
First Half Corners
This is a bet type usually only available in-play with Bet365. The safest line to pick is 1st Half Asian Corners on the lowest line you can get (preferably a whole number .. ie Over 3 First Half Asian Corners)
The teams have shown statistically that they get First Half corners and the alert coming through means there are a lot less than the numbers expected. Its not rare for the majority of expected FH Corners to come in the last 20mins of the first half.
For example, an alert may come through on a game with only one corner in it by 25mins. You check the game on Bet365 and the First Half Asian Corner line is at 3.5 with odds of 2.20. You now have two choices.
You place the bet but need 3 more corners for it to win.
You wait a minute or two, and the-line changes to "Over 3 First Half Asian Corners". This adds safety to the bet, as only 2 more corners would mean a refund rather than the loss that would occur if you went for Option 1. You can wait for the odds to be where you want them to be as well. You could even wait a while longer, until the bet line drops to "Over 2.5" but risk a corner going in while you watch it.
Game Corners
Effectively the same as First Half Corners but you are in the 2nd half period. The same rules and tactics apply
Summary
After using the alerts for a while you will start to find the ones you like and that suit the bookmakers you use. There is no one right way to bet using the alerts but we've tried to give you a starting point, especially if in-play betting is new to you.
Good luck and remember that the lower the odds are the higher strike rate you need to make a profit.
---
Related Posts