Football Betting Guide For Beginners
On the face of it, betting can be simple, but there is actually a lot to learn. There are so many online betting sites advertising bets online on TV, and there are hundreds of betting markets. It isn't easy to know where to go for the right advice.
Before we get into it, I want to say that what we'll be discussing here is mainly about football betting. We won't be talking about horse racing betting, although some of the principles still apply.
Neither will we be suggesting that with this advice you can give up your day job and become a full-time gambler. We will be keeping it simple, so no mention of more complicated betting strategies like Asian Handicaps or Goliaths.
So, where do you start with your betting strategy?
Here's what you can expect from this basic article:
You will find out where to learn about all those crazy betting terms; uncover what all the abbreviations mean.
I will teach you two of the most common ways to bet; Singles and Accumulators and how they work.
You will discover some of the more popular types of football bets; both teams to score, double chance, etc.
And finally, I will offer you some crucial tips to set you on the right path to successful football betting.
Read on and you'll be betting with confidence in no time.
Football Betting Terms
There is a lot of terminology and abbreviations used in sports betting. If you are unsure of some of the terms I have used, please check out Abbreviations & Terminology.
It's quite a lengthy list so take your time, and I'll still be here when you get back.
Singles Vs Accumulators
A great place to begin is to understand the difference between different styles of bets?
Two of the most common bet types are Single bets and Accumulators.
Single Bets
A single bet is a bet placed on only one selection or market. Only that one selection will determine the outcome of the bet.

If you win your bet, you will win your stake back plus the profit determined by the odds. If your bet loses, you will lose your stake.
Here are some popular markets to bet on football games:
Singles: The simplest of all bets, with a single bet on a football match. For example, you can bet on the team to win. Singlesbetting odds are usually available for most football games.
Double Chance: when a bookmaker reduces the usual three outcomes of a match (win, draw or lose) to just two (win/draw or lose); this is known as a Double Chance bet. If the backed team wins or draws, the bet wins; if the team loses, your bet fails.
Correct Score: Correct score betting is popular with football, where you bet on the score at the end of the match. The total number of standard scores to select is limited, though.
Both Teams to Score: You bet on each team to score at least one goal during the match. When each team scores doesn't matter; you can get higher odds if you bet on both sides to score in either the first half or the second half.
Total Match Goals: If you think you know how many goals will be scored or not scored in a match, you can bet on the total match goals. It doesn't matter which sides score the goals; it is the total goals scored at the final whistle that counts.
Accumulator Bets
An accumulator is a bet placed on multiple selections; on two or more matches or markets. Usually spread out across multiple football matches, like this: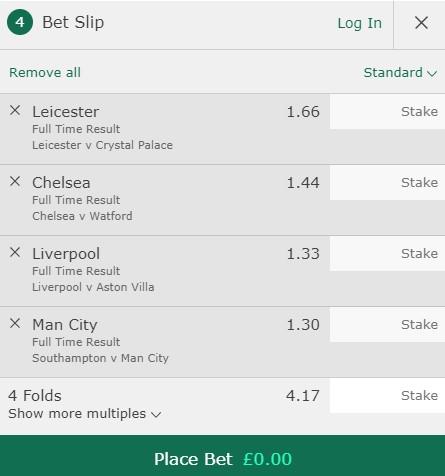 To win your bet, you will need all of your selections on to win. The reward for an accumulator bet is much higher than a single bet; however, there is a much greater risk of losing your stake.
The more selections you choose, the smaller your chance of winning; it only takes one of your choices in the accumulator to lose, and your bet will fail. This can be frustrating.
Key Points
Before considering football betting, it is important to consider the following points. These will help you to be successful at betting; I wish someone had told me these when I started. Some of these are:
Don't bet with emotion, bet with your head. Check the team news, for example. There is no point in betting on your favourite Premier League striker to score if he's not playing.
Don't be greedy; that 100-1 accumulator would be great to win, but they don't win often enough to be a viable betting strategy.
Take your time and remember, betting isn't a get rich quick scheme. Try to think long term.
Having a staking plan is very important; make sure you stick to it.
You must never bet money that you can't afford to lose; use only disposable income.
Don't bet on friendlies or games where teams lack motivation, say at the end of the season when the league has already been decided.
If you want to learn more about these key principles, check out our more detailed blog on key fundamentals here.
Reach Out To Gain My Knowledge
The Play the Percentage blog is a brilliant place to start, but you can't beat talking to people who have been successful and betting for years.
Here at Play The Percentage, your favourite football tipster, we have a very friendly community with lots of experience to draw on. No questions are stupid, and everyone is welcome. If you feel overwhelmed, ask for help; we are here to help.
If you think gambling might become a problem for you, then you should seek help. BeGambleAware offers free advice for this.
Happy Betting and Good Luck!
---
Related Posts