Abbreviations & Terminology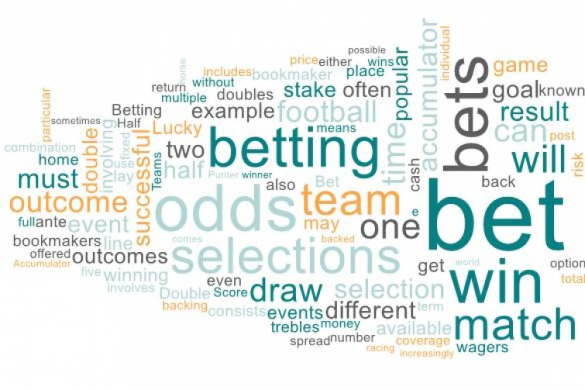 Common Abbreviations
ACCA - Accumulator
AH - Asian Handicap
BP - Booking Points (Yellow = 10 / Red = 25 / 2x Yellows > Red = 35)
BTTS - Both Teams to Score
CS - Correct Score
DNB – Draw No Bet
FH - First Half
FT - Full Time
GL - Goal Line
HT - Half Time
O1.5 - Over 1.5 (usually referring to Goals)
SH – Second Half
NCS – No Clean Sheet
TG - Team Goals
Terminology
A
Accumulator: A series of bets on multiple outcomes, all outcomes must be successful for the Punter to win the bet.
Ante Post: It is also possible to place some football bets weeks, months and sometimes years in advance. For example when you bet on the Premiership or world cup winner. Such bets are called 'ante post'-bets. The term 'ante post' comes from the world of horse racing. Making such an ante-post bet can be really successful if during the time it becomes clear that the team backed is increasingly favoured to win.
Arbitrage Betting: A system where you can use the highest odds from different bookmakers on one sporting event to create a situation of guaranteed profit. Regardless of the outcome of a match you can ensure, by hedging your bets, that you will be getting win. It just takes a bit of work, some calculations and some shopping around to create an arbitrage situation, but the benefits of it can be huge.
Asian Handicap: Asian handicaps are, as the name suggests, a special type of handicap betting popular in the Far East and commonly used in football betting. For a more detailed explanation will be writing a separate Blog Article.
B
Banker: A selection that is fancied very, very strongly indeed. It will often be the cornerstone of combination bets.
Bet: To lay money on the correct prediction of an outcome.
Betting Exchange: An exchange is a peer-to-peer betting network, enabling you to place bets and 'match' wagers placed by your fellow punters.
Bookie/Bookmaker: A company who is licensed to accept bets on the result of an event based on their provision of odds to the customer.
Both Teams to Score: Both Teams in the match must score at least one goal. Which half of the game the goals come in makes no difference unless it's specified to happen within a particular half of the game I.e. Both Teams To Score 1st Half.
C
Cash out: The cash out option has become increasingly popular in online betting. This is when a punter can settle a bet before it has finished, such as cashing out a 6-fold accumulator with five legs already having been won and not wanting to risk the sixth leg winning also. You can cash out on a winning bet in an individual soccer match too for example, and the cash out price offered will naturally be lesser than risking the bet running to full time.
Clean sheet: Think of a clean sheet as a shutout. It is when a team successfully comes through a game without having conceded a goal or any points. This is a big pride of defences and in betting you will see options like To Win to Nil which means that you are backing a side to win without conceding in the game.
Combination Bet: A combination bet is where you place multiple bets on your selections to eliminate the risk and to maximise the potential gain. It is a full coverage bet so even if one selection loses, the entire bet won't be lost (like in an accumulator). So for example if you have five selections you could make ten different 3x combos from them, or five 4x combos.
Correct Score: Correct score betting is popular with football, where the total number of typical scores is limited. The odds are dependent on the actual match odds between the two teams.
D
Doubles: An accumulator which involves two selections. Both must be successful for the bet to win.
Double Chance: Occasionally, bookmakers may reduce the 3 outcomes for a football match to 2, by what is known as 'Double Chance' betting, where a single price is offered on a win or draw. If the backed team wins or draws, the bet wins; if the team loses, so does the bet. With double chance bets there is no possibility for the draw. The win/draw odds will always be shorter than for both the individual win and draw odds, because the chances of either outcome occurring are greater than for each one separately.
Double Result: Some bookmakers offer books for the half-time result only, and more typically the "double result", that is, the result at both half-time and full-time. For football matches this means a total of 9 betting possibilities is commonly available. This is a popular alternative to simply backing an outright result, which may often be at unattractively short odds. Obviously the risk is greater since there are more possible outcomes (9 as compared to 3 with standard match betting), but consequently the odds are better. The highest odds are obviously available for the home team to be winning at half-time and the away team to win after 90 minutes. Typically, odds of 28/1 can be found for this unlikely double result, and can be even higher if the home team is a strong favourite.
Draw No Bet: This is a form of a coverage bet when you back a selection in a football match for example, to win, but if the game is drawn then you will get your stake back. So in the outcome of a draw, essentially no bet has been made. It's a coverage bet so naturally you will sacrifice odds compared to backing the selection to win outright.
Drift: When the price of a selection moves out (gets bigger), often due to a lack of support. That selection is said to be "on the drift".
Dutching: Dutching is where you take your planned stake and then use it to spread over more than one outcome on an event. For example if you had a £10 stake and you spread it on two outcomes. You could use £4 on a home win, £6 on a draw. This is based on the same amount of winnings coming back should either of the outcomes happen.
E
Edge: A punter's advantage in a bet.
Evens: A betting term for a 50/50 shot in an event. If you see a football team at even money then the bookmaker is assessing them as having a 50/50 shot of winning the game. In decimal odds that will portrayed as 2.0 and which way you go it means that whatever you stake, that is what you would get back. So place a £10 even money stake, you win an additional £10 profit.
F
Favourite: The team or individual the bookies rate most likely to win the contest they are betting on.
Fold: A fold represents the number of selections in an accumulator, i.e a Four-Fold Accumulator consists of 1 bet involving 4 selections in different events. All must be successful to get a return.
Form: Form rates how a team is currently performing.
G
Goal line: Alternative goal line wagers are those which do something that traditional over/under market does not. It offers whole goals which increases the risk on a bet, because then it introduces a push option which can cause a loss. But the odds may be more appealing and there is also a split bet on alternative goal line wagers available where you split your stake between two goal-line options.
Goliath: A Goliath consists of 247 bets involving 8 selections in different events. The bet includes 28 doubles, 56 trebles, 70 fourfolds, 56 fivefolds, 28 sixfolds, 8 sevenfolds and an accumulator. A minimum of 2 of your selections must be successful to get a return.
H
Half time Bet: A bet placed on the half time result.
Half time Result: A bet that involves the Punter correctly predicting the result of a match at half time.
Handicap: A system used by bookmakers to make a one sided event become a more attractive betting proposition to the punter. For example, the weaker team may start with a one goal advantage. Known as the Spread in US sports. For fractional handicaps (0.5, 1.5 etc.), there is no possibility of a draw. If the margin of victory is same as the quoted handicap, all bets on the selected team will lose.
Hedging: This involves placing a bet on opposing outcome to the punters original selected outcome in order to guarantee winnings or cut losses.
Heinz: A Heinz consists of 57 bets involving 6 selections in different events. The bet includes 15 doubles, 20 trebles, 15 fourfolds, 6 fivefolds and an accumulator. A minimum of 2 of your selections must be successful to get a return.
L
Lay: When a bookmaker accepts bets it is often said that they lay a bet. A bookmaker will often be known as a layor. You can lay yourself on Betting Exchanges
Lengthen: When a bookmaker sees little activity on a particular outcome, they may choose to lengthen or increase the odds available.
Line: The current odds or point spread on a particular event.
Longshot: A bet perceived unlikely to win or an accumulator with many selections
Lucky 15: A Lucky 15 consists of 15 bets involving 4 selections in different events. The bet includes 4 singles, 6 doubles, 4 trebles, and 1 fourfold. If only one selection wins, as a consolation returns are paid to double the odds. If all four selections win, a bonus of 10% is added to total returns. For the bonus to apply, all selections must win (none void or non-runners). For each-way bets the consolation is paid only on the win part of the bet. Lucky 15 bets are accepted on horse racing and greyhounds only. Also Lucky 31 and Lucky 63 exist.
M
Match Betting: The most popular and common fixed odds betting market is match betting. In standard match bets between two teams, winning odds are available for both, and the wager will either win or lose depending on the outcome of the event. Since a significant proportion of games end without any winner, the "draw" is offered as a betting option. Football fixed odds match betting is sometimes known as 1X2 betting. On fixed odd coupons, a "1" denotes the home team, with the away team represented by a "2" and the draw by an X.
Multiples: Another term for Accumulators. Multiple bets involve more than one selection. Double and trebles are popular wagers for football match betting. A double is one bet involving two selections in different events, both of which must be successful for the bet to win. The odds for a double are calculated by multiplying together the separate odds for the two single bets. Accumulators contain 4 or more selections. Often, the only limit to the number of selections included within an accumulator bet is the bookmaker's maximum allowable pay-out on one bet.
N
Nap: A tipster's best bet of the day.
O
Odds: Also referred to as the price. The returns a bookmaker offers for a selection to win.
Odds On: Refers to a price where the odds are less than evens (fractional) or 2.0 (decimal).
Odds Against: Refers to a price where the odds are greater than evens (fractional) or over 2.0 (decimal).
Outright Bet: An outright bet is the most straightforward wager that you can make. You can place an outright bet on a League winner, a Cup winner, a horse to win a race or who will be the next Prime Minister. This is just a straight single wager when you pick on selection from an event to win.
Outsider: The opposite of a favourite.
Overs: An increasingly popular football fixed odds market is total goals betting, sometimes known as over/under. A commonly available over/under bet available in football is over/under 2.5 goals. By introducing a decimal, this removes the possibility of a draw, leaving only two possible outcomes. Some bookmakers like to introduce an extra outcome to the book. 3 outcomes might include: fewer than 2 goals; exactly 2 goals; and more than 2 goals. Other bookmakers introduce even more, although this is with a view to increasing their profit margin on the book.
Over-round: In theory a betting book should be 100%, so a toss of a coin would be even money heads, even money tails. However the bookmakers' profit margins mean the figure is usually above 100%. In cases where it is less this is referred to as 'over-round'.
P
Parlay: The US term for an accumulator.
Patent: A Patent consists of 7 bets involving 3 selections in different events. The bet includes a single on each selection, plus 3 doubles and 1 treble. Just one successful selection guarantees a return.
Price: Betting or gambling odds.
Punter: The individual who puts on a bet.
R
Round Robin: A series of three or more teams in 2-team accumulators. A Round Robin means 3 selections in 3 (different) races, in 3 doubles, 1 treble and 6 single stakes about bets.
S
Singles: The simplest of all bets is the single. With a single bet on a football match, only one outcome is backed, and the bet can generally either win or lose, although in Asian handicap, there are other possibilities. With a simple win/lose single, a selection must be successful to achieve a return. A typical single match bet might be Liverpool to beat Manchester United at 2/1. If Liverpool win, a £10 stake would realise a profit of £20; if they draw or lose, the stake is lost. Singles odds are today generally available for almost any football game.
Super Heinz: A Super Heinz consists of 120 bets involving 7 selections in different events. The bet includes 21 doubles, 35 trebles, 35 fourfolds, 21 fivefolds, 7 sixfolds and an accumulator. A minimum of 2 of your selections must be successful to get a return.
T
Trebles: A Treble consists of 1 bet involving 3 selections in different events. All must be successful to get a return.
Trixie: A Trixie consists of 4 bets involving 3 selections in different events. The bet includes 3 doubles and 1 treble. A minimum of 2 of your selections must be successful to get a return.
U
Unders: An increasingly popular football fixed odds market is total goals betting, sometimes known as over/under. A commonly available over/under bet available in football is over/under 2.5 goals.
Underdog: A team or individual that is expected to lose. Also known as the dog.
V
Value Bet: Simply put, if you believe the odds taken are better than the mathematical chance which the team involved has of pulling off the outcome, then you have a value bet. This means, that if a tennis player has an actual mathematical 50% chance of winning a match, and the odds on that player are above Evens, then bet value is better than the mathematical odds, so that is a value bet.
Y
Yankee: A Yankee consists of 11 bets involving 4 selections in different events. The bet includes 6 doubles, 4 trebles, and an accumulator. A minimum of 2 of your selections must be successful to get a return.
---
Related Posts