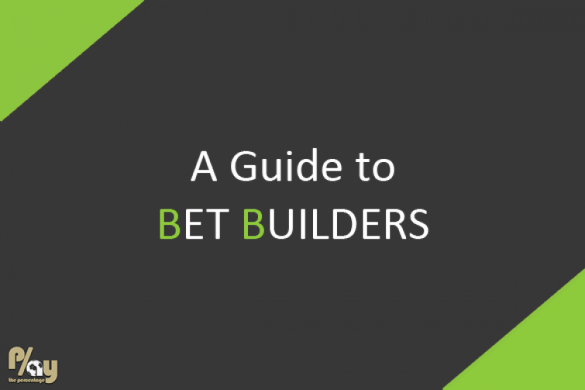 What are Bet Builders?
As they suggest, they allow you to "build bets". Before these were around, multiples were possible but not on the same game, but now you can bet multiple markets on the same game, allowing you to combine bets like 1X2, Over/Under goals and goal scorers.
Several bookmakers have these now, including Bet365's Bet Builder, SkyBet #RequestABet and BetVictor's #PriceItUp, along with several others. They can offer extraordinary odds for just a single game, meaning a very specific set of requirements could net you hundreds of thousands in just under 2 hours of stress!
Why should I use them?
Like previously mentioned, they offer the flexibility people have been longing for on a single game for years! Ever wondered what odds you'd be given on Arsenal beating Spurs 4-3 with each Kane bagging a hattrick and Ozil and Lacazette getting two goals each, with both teams combining for more than 8 corners? If you were wondering on this game it was 5000/1!
Dream no more as bookmakers are bringing these odds right to you. Like all things with bookmakers, they are designed to make them a profit, but with careful planning and use of Play The Percentage stats, they could well be used to make you a hefty amount of cash in a very short amount of time.
How to play Bet Builders to gain the biggest advantage
For the purpose of this article I'm going to be using Bet365's Bet Builder for screenshots, simply because I opened up Bet365 first. The Bet Builder function also has a lot of options, particularly on the biggest games, but even on smaller markets, so it seemed simple enough to use this as a demonstration tool.
Firstly, we need to log into the Play The Percentage website and load up the Pro Bet Builder, then scroll down and find a game we like the look of. For the purposes of this article we're going to use a game between VfL Osnabruck and Karlsruher SC in Bundesliga II, not only to show how many markets are available on Bet365's Bet Builder, but also because it has good stats in the Pro Bet Builder!
First, we decide what percentage event occurrence we're happy with in the Pro Bet Builder menu. For this I've chosen 90%, a mark I feel gives me a wide range of markets but also allows me to build strong Bet Builders.

So, this game ticks almost every box in terms of possible bets, so we have a wide range of bets to pick from. To start with, Over 2.5 Match Goals has got a tick on it, so we're going to go for that one! Look at the betslip below and note the wording of it. Over 2 goals in the Match, rather than Over 2.5.
This doesn't mean 2 is a push, it is a loss, just for some reason Bet365 decided theirs would be in true English rather than how you would normally see it in a betslip.

Second to this, there is a green light on a second half goal. While the bet already requires 3 goals be scored. We'll add this to the bet, however the odds do not increase much. The only real new requirement is that one goal be in the second half, almost an assurance for 3 goal game.
Sometimes you need to play the risk with the rewards for bets like this, but I'm happy to take the slight risk for the slight reward given.

Along with this, several of the corners bets are good to go, so we're going to delve into the stats to work out which is the best to pick. We're using Bet365 here so unfortunately have to avoid the Sky corner bets. Over 8 FT corners and 4+ SH corners have given us the green light, so we'll add both of them to the betslip.
Again, watch the wording, but fortunately Play The Percentages stats sheets write them out how we want to see them on this, so we will add them in now.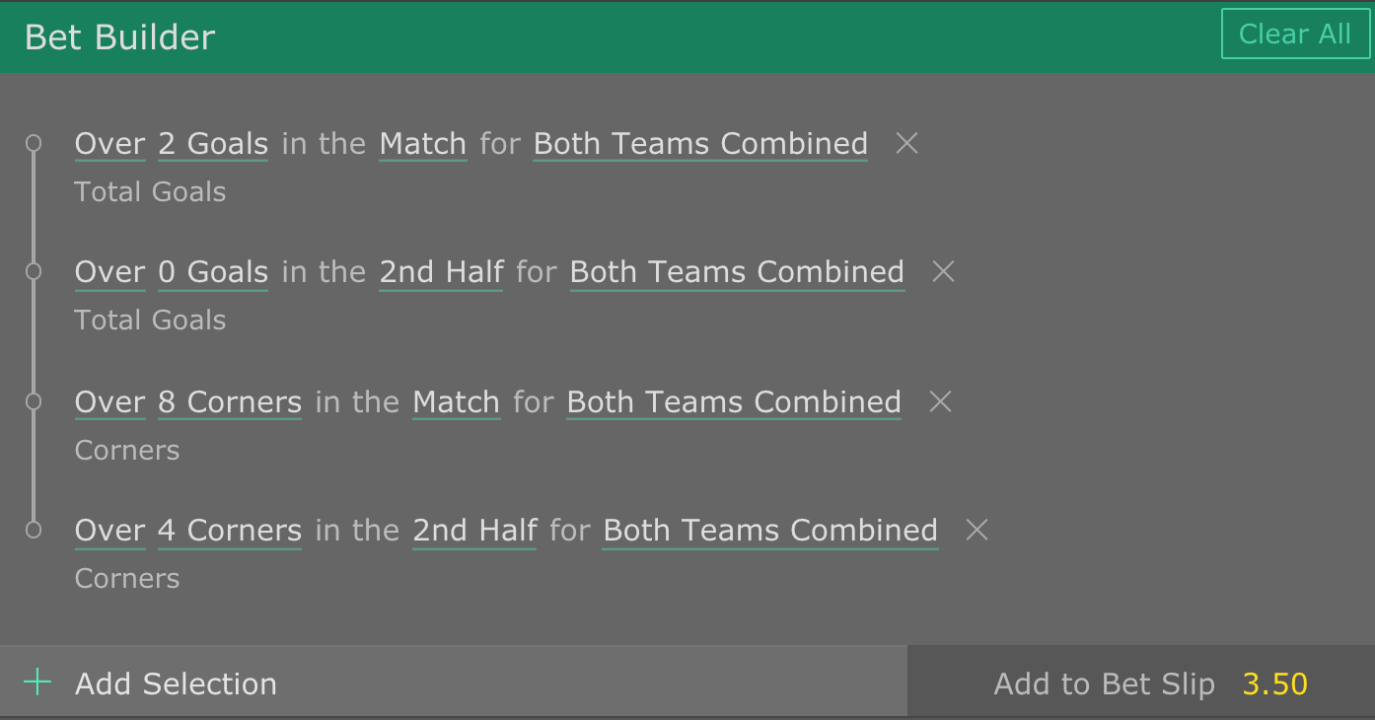 The final bet we will add is Both Teams to Score. The average is 75% for the two teams, both teams have scored in all their games this season, so we will add the Both Teams to Score bet to it. We've got a previous article on BTTS bets, so make sure you check that out HERE.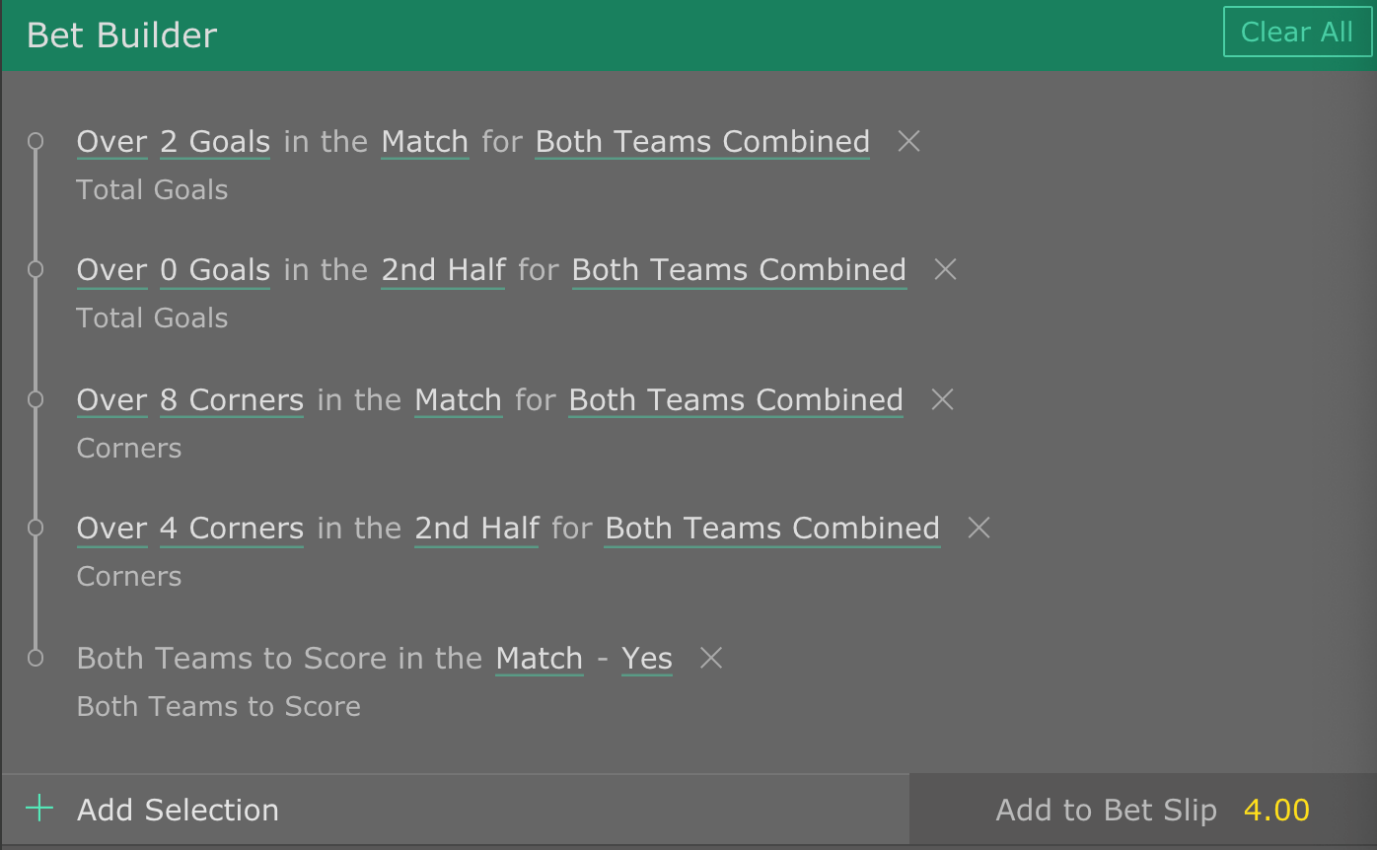 And there you have it. A finished Bet Builder bet. Bet365 allows for up to 6 individual bets in a Bet builder, so you would have room for one more, but like I said, you need to weigh up risk and reward, and here the risk outweighs the reward. So, not the biggest returns, but who said all betting had to be flashy!?
Remember the Pro Bet Builder on Play The Percentage allows you to pick your minimum percentage threshold, and lowering it will open up more bets but give a little more risk.
Remember to read the other articles we have on the site, including the one on Both Teams to Score bets, and good luck with all of your future Bet Builders!
Play around with different sites, see what you like and what you don't, and what gives you the best odds!
---
Related Posts