Guide To The Booking Points/Card Market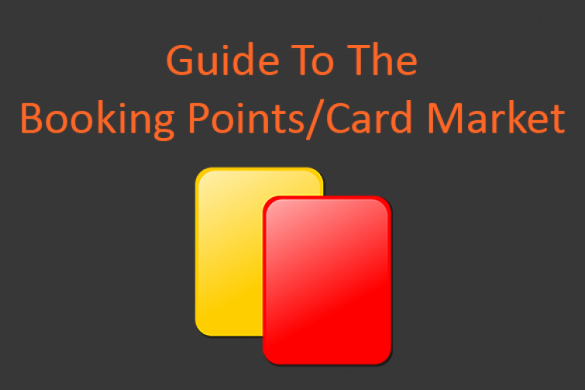 Guide To The Booking Points/Card Market
The booking points / card market is a market that has been very profitable to me in recent times.
I have studied this market for about two years and I must stress, experience and thorough research is essential. I have seen lots of people bet blind on this market just because they "think" there should be cards.
There are lots of pointers and scenarios to take into consideration when approaching this kind of bet.
I will break it down simply and demonstrate what I specifically look for in order to place a booking points bet confidently.
Team Statistics:
There are lots of different sites you can use to find a bet but I only use the one below:
Play The Percentage and in particular, their Card Shark is a very good tool and way to compare teams.
This feature allows you to filter and choose from leagues all around the world. There are several boxes that can be selected to narrow down your preferred betting preferences.
This stat engine is also very good for finding Over 0.5/1.5 cards each half.
Basically, this is the holy grail for card betting selections.
Previous H2H Meetings:
Although I always check previous H2H meetings, I don't always rely on this feature. There are a number of reasons for this; maybe a different manager with different ideas. There will always be a difference in teams that play a high intensity game, to a team that plays defensively. Also, when going back several years to assess stats, players and personnel will obviously change. That needs to be taken into consideration too.
There are lots of decent sites, where there will provide you with previous H2H meetings and in depth statistics; but I prefer to use the app of:
The Referee:
I cannot stress enough how important this part of compiling your bet is. This is absolutely crucial for your analysis.
There are notoriously more cards shown in Spain and Italy, and the referee tends to be card happy and very strict. Also, if you want to extend your range of betting, look no further than South America.
Bolivia, Uruguay, Ecuador and Argentina are renowned for lots of cards, and again, their referees don't take any messing and are very strict.
Members can view the referee stats here - https://playthepercentage.com/members/referee-stats
These are my simple, but effective methods in researching my booking points/card bets. Yes, there are lots of other statistics you could delve into; and although I go quite deep in my research, it's also pretty simple in its application.
I will also add, the individual player card market can be useful too. Although it is widely used, I tend to keep my bets to the actual teams, as I've found I've had more success that way; but each to their own.
Booking Points/Card Betting Sites:
There are no shortages of betting sites you can use to create your own bet.
The ones I use more than others are:
Sky Bet, which is user friendly and great to compile each team booking points and acca's (which are not profitable in the long term, just good for a bit of fun).
Bet Victor, I like using as it offers both the overs and under card lines, along with over and under in each half.
William Hill does pretty much the same as Bet Victor and Bet 365, but it also offers odds on less high profile leagues.
And finally, Bet365 - this site offers pretty much the same markets as Bet Victor and William Hill. They are good for over 0 cards/over 1 cards and each half cards. One big plus to this site is that it also offers an excellent alternative in the Asian card line.
Below is a link that explains that angle in simplistic terms:
https://playthepercentage.com/blog/asian-betting-explained
So, wrapping this all up, the markets I prefer and the markets that have provided me with the most success are:
20+ each team booking points
20+ booking points
Over 0 cards each half
Over 0 cards 1st/2nd half
I hope my explanations and reasons above, have provided you with a better understanding of the booking points and card market.
There are currently no posts.