Match Preview - Middlesbrough v Luton
Kick Off: 15.02.2020 15:00
England Championship
In the last 5 HOME Games for Middlesbrough there has been a total of 11 Game Goals and BTTS has occurred in 4 of those 5 Games.
In the last 5 AWAY Games for Luton there has been a total of 17 Game Goals with Luton conceding 2 or more goals in all those games.
Goals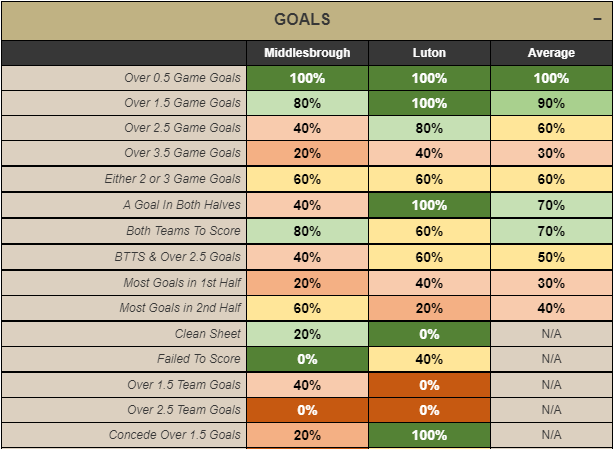 Over 1.5 Games Goals looks good at 90% Average but maybe take a chance on Over 2.0 Goal Line.
It may also be worth a punt on Middlesbrough to score Over 1.5 Team Goals taking into account the 100% on Luton conceding Over 1.5 Goals, along with their record away in the last 5 Games.

One to watch out for InPlay if you like to place a SH Goal Line Bet.
Corners

Middlesbrough looks great in the Corner Race to 3 and 5 Corners.

It also looks great for a corner in 0-10 mins and 80-FT.

Middlesbrough also look good for 2+ and 3+ SH Team Corners.
Bet365 will not allow me to put certain selections together on the BetBuilder so look out for all the potential pointers from above in InPlay bets.
Suggested Bet
Just a small double bet on the BetBuilder.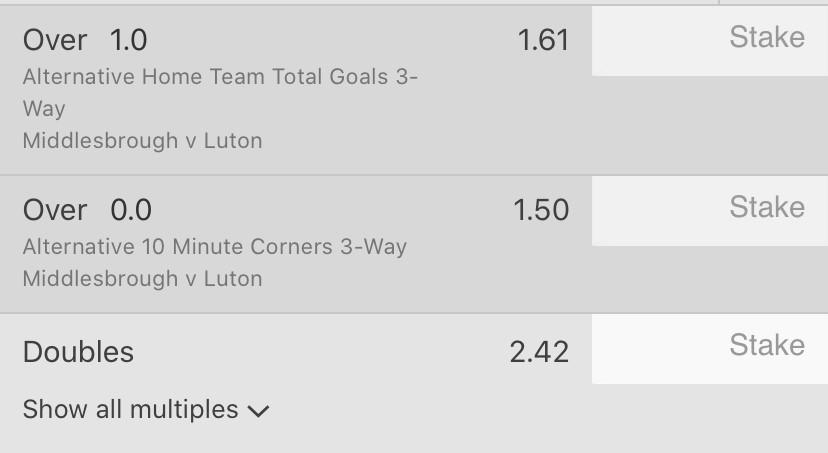 ---
Related Posts