Match Preview - Keflavik v Magni Grenivik
Kick Off: 16.07.2019 19:00
Iceland Inkasso-Deildin
Over the last 10 HOME games for Keflavik they have won 4, lost 5 and drawn 1. They have managed to score in all but 1 of those HOME games. Keflavik have conceded in all the last 5 HOME games. A total of 31 goals has been scored in their last 10 HOME games which makes an average of 3.1 per game.
Over the last 10 AWAY games for Magni they have only won 2. They have conceded 41 goals in the last 10 AWAY games, making that an average of 4.1 goals per AWAY game conceded. This includes two 7-0, one 6-0 and four 4-1 results.
Considering the above let's have a look at the Betting Engine over the last 5 games.
Great stat % for over 2.5 and 3.5 goals at 90% and 80% respectively. With BTTS at 80% I think it is well worth a punt on BTTS and over 2.5 or even BTTS and over 3.5 if you are feeling adventurous. A goal in both halves looks solid at 90%.
Great percentages for over 0.5 and over 1.5 Game Goals in the First Half. Keflavik to score in First Half is solid at 80%. Second half game goals at 100% is excellent too. Well worth keeping an eye out for the Inplay bets with these stats.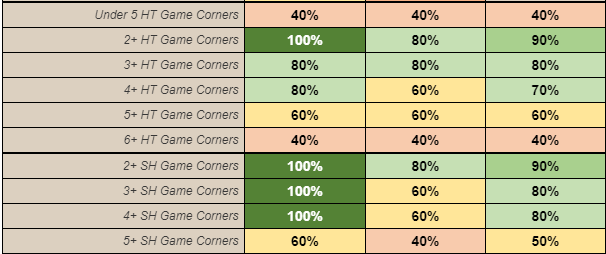 A couple of good corner bets are available with over 6 and 7 Game Corners looking good at 80% and 70% respectively. 4+ HT Game Corners at 70% and 4+ SH Game Corners at 80% look great bets.
---
Related Posts