Match Preview - Hertha Berlin v Augsburg
Kick Off: 30.05.2020 14:30
German Bundesliga
In the last 5 meetings between the two clubs there has been a total of 21 Game Goals with BTTS occurring in 4 of those 5.
Hertha have won their last two games scoring a total of 6 Game Goals in the process. Augsburg have only won one of their last 5 away games conceding 2 or more in all their losses. Stretching back to 2011, at home against Augsburg, Hertha have score 2 or more in 5 out of 8 of those games.
Goals


Over 1.5 Game Goals looks great at 90% Average. Even though the stats don't really show it I believe the 80% for Augsburg to concede Over 1.5 Team Goals is definitely worth a punt. Even more so if you look at past meetings between the clubs.
Corners


Over 2+ HT Game Corners at 90% Average looks good as does Under 5 HT Game Corners at 80%.
2+ SH Game Corners at 90% Average looks excellent too.

3+ FT Team Corners at 100% for Hertha and 80% for Augsburg both look great value.

2+ FH Team Corners for Augsburg is at a solid 80% as is 2+ SH Team Corners for Hertha.
Suggested Bet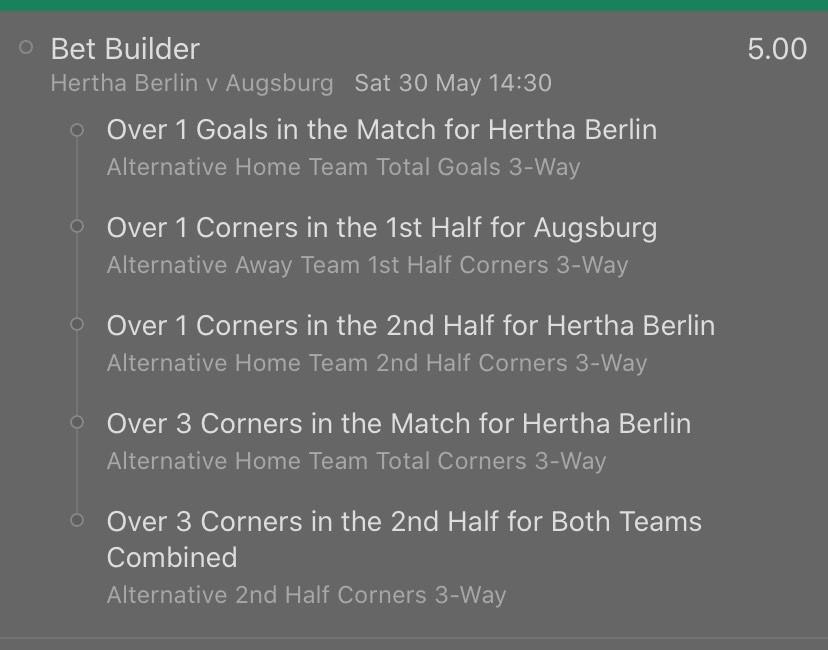 ---
Related Posts