Match Preview - Harrogate Town v Maidenhead Utd
Kick Off: 04.01.2020 15:00
England National League
In the last 5 HOME Games for Harrogate there has been a total of 21 Game Goals. Harrogate have scored 2 or more in all those games. They have also conceded a least 1 goal in all of the last 5 Home Games.
In the last 5 AWAY Games for Maidenhead there has been a total of 18 Game Goals. They have conceded 2 or more in 4 out of those 5 games.


Over 2.5 Game Goals at 90% Average looks excellent. Over 1.5 Team Goals for Harrogate backed up Maidenhead United at 80% to Concede Over 1.5 Game Goals.

80% average for SH Games Goals.

Any of the 2+, 3+ or 4+ HT Game Corners look great bets.

Again 2+ and 3+ SH Game Corners looks good.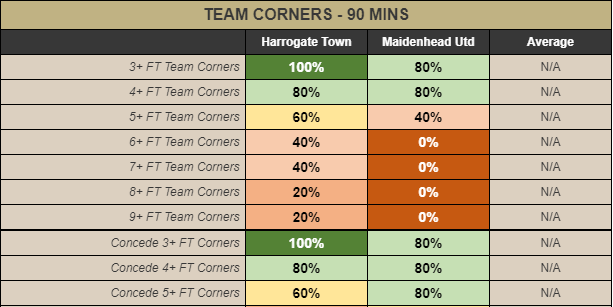 4+ FT Team Corners for Harrogate at 80% backed up by Maidenhead conceding 5+ FT Corners at 80%.

2+ SH Team Corners for Harrogate.
---
Related Posts