Match Preview - Bayside v Acacia Ridge
Kick Off: 20.07.2019 09:00
Brisbane Premier League
In the last 10 HOME games for Bayside there has been a total of 47 Game Goals at an average of 4.7 per game. Even though they have managed to score 23 of these goals they have only won 2 of their last 10 HOME games.
In the last 10 AWAY games for Acacia Ridge there has been a total of 35 goals at an average of 3.5 per game. They have bagged 15 of these AWAY Game Goals managing to score in 7 out of those 10 AWAY Games.
Let's look at the Betting Engine over the last 5 games.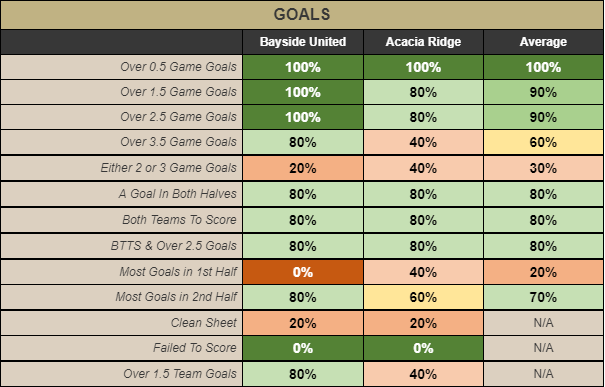 The Betting Engine backs these stats up and there are lots of great bets available. All the Over Game Goals bets are excellent with even a possibly of a little punt on over 3.5 Game Goals. A goal in Both Halves, BTTS & BTTS/Over 2.5 look solid too. Most goals in the 2nd half and Over 1.5 Team Goals for Bayside are good at 70% and 80% respectively.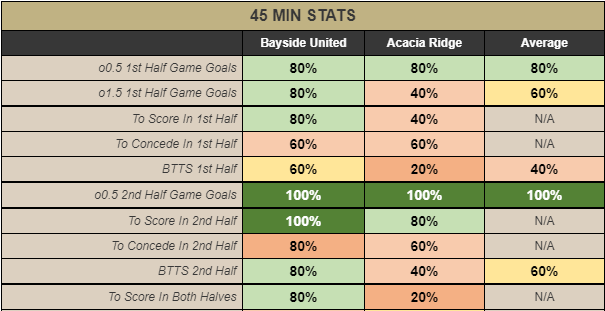 There are even more great bets available in the 45 Min Stats. Over 0.5 and Over 1.5 FH Game Goals at 80% look great. 100% for SH Game Goals with solid percentages for both teams to score in the SH are good bets also. 80% for Bayside to Score in Both Halves looks excellent. I often post BTTS in the FH bets on the Tips Channel, mainly when the English Leagues get going. 40% for BTTS in FH and 60% for BTTS in SH are about as good as you will get for this type of Stat. I had a 100-1 treble last year picking matches with at least a 40% Average on this Stat.




Corner percentages for this game does not disappoint either.
Over 8 and 9 Game Corners at 80% and 70% respectively.
4+ SH Game Corners at 80% with 5+ and 6+ at 70% not bad either.
2+ Corners Each Half at 90%.
2+ FH Team Corners for Bayside at 80%.
1+ SH Team Corners for both teams at 100%.
1+ Team Corners Both Halves at 100% for Bayside and 80% for Acacia.
---
Related Posts