Match Preview - Arsenal v Watford
Kick-Off: 26.07.2020 16:00
England Premier League
Goals
In the last 5 HOME Games for Arsenal there has been a total of 15 Game Goals. 2 or more has been scored in 4 of those 5 Games.
In the last 5 AWAY Games for Watford there has been a total of 12 Game Goals.
In the last 5 meeting between the clubs, 2 or more Game Goals has occurred 4 times.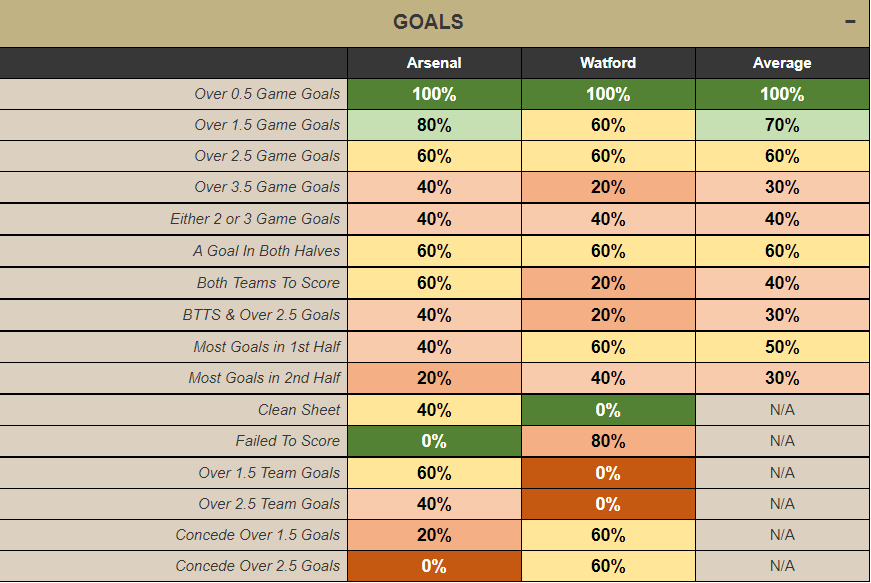 With the previous history and the stats above I would be going for Over 2.0 Goal Line and Arsenal to score 1.5 Team Goals.

A FH Goal looks great at 80% Average but I would be more tempted to go for Arsenal to score in FH. A SH Goal also looks excellent at 80% Average.
Corners

Over 7 FT Game Corners at 100% looks a solid bet.

Any of the Arsenal FH Corner bets look good as does Watford 1+ and 2+ SH Team Corners.
Suggested Bet
---
Related Posts